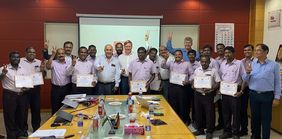 This month the Management honoured all employees who have worked for Fritzmeier Motherson FMCEL in India for 10 years.
We are very glad to have so many experienced colleagues on the Fritzmeier team. Our heartfelt thanks for the many years of faithful and hard work!
In 2007 Fritzmeier Systems GmbH and Samvardhana Motherson Group in Chennai, India set up the joint venture FMCEL, which currently has 380 employees. The facility offers the complete process chain from concept to fully equipped cab, and specializes in the manufacture of driver cabs for heavy-duty tippers, excavators, bulldozers, backhoes, wheel loaders and agricultural tractors. Alongside cabs, FMCEL also makes lightweight fabrication parts for construction machinery in India, Southeast Asia and the SAARC region. FMCEL's high-tech products meet demanding international safety requirements for ROPS (Roll Over Protective Structure) and FOPS (Falling Object Protective Structure).
For more information please contact:
Fritzmeier Motherson Cabin Engineering (P) Limited
NH4 Athivakkam Road, Singadivakkam, Attuputhur Post - 631 561.
Kanchipuram Dt & Tk, Tamilnadu, India
Phone: +91-44-27248251
marketing.fmcel(at)fritzmeier.motherson.com